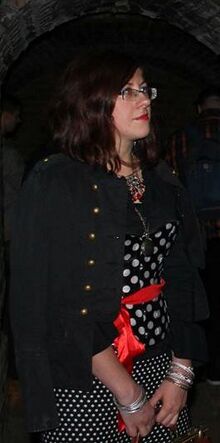 Informacje podstawowe:
Ścieżka: Acanthus
Zakon: Adamantowe Strzały
Kabała: Niezniszczalni
Biografia:
- Urodzona: październik 1989r.
- wychowała się nad morzem, gdzieś w okolicach Koszalina;
- ukończyła Ogrodnictwo na Uniwersytecie Przyrodniczym w Lublinie;
- do Rzeszowa przybyła na początku maja 2016 roku;
- w czerwcu 2016 roku w imieniu magów Konsylim Miasta Rzeszowa podpisywała konwokację;
- od 23 lutego 2017 r - do 26 kwietnia 2017r pełniła funkcję Konsyliarza Acanthusów
Plotki:
- podobno miała romans z kilkoma przedstawicielami Konsylium miasta Lublin;
- uparcie poszukuje wszelkich plotek i informacji, jakiejkolwiek wiedzy związanych ze Śniącym, skąd się wzięło to całe połączenie;
- podobno przed każdą zmianą miejsca zamieszkania dostawała dziwne listy, wysyłane z miasta w którym powinna się pojawić;
- uwielbia muzykę klasyczną;
Ad blocker interference detected!
Wikia is a free-to-use site that makes money from advertising. We have a modified experience for viewers using ad blockers

Wikia is not accessible if you've made further modifications. Remove the custom ad blocker rule(s) and the page will load as expected.